A Guide to the California Gold Rush by Eugene R. Hart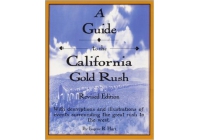 Product Code:
A Guide to the California Gold Rush
Reward Points:
0
Availability:
In Stock
Price: $19.95

At home or on the road, this interactive book examines major events and lasting changes that led up to and beyond the worlds best known gold rush. Each section is packed with interesting details, easy to understand information, photos, illustrations, and self-tests designed to entertain as well as add to your knowledge. Travel the 1849 Emigrants' Trail across the continent by wagon into Sutter's Fort and the gold fields. Find out what it was like to sail on an ocean voyage to San Francisco by way of Panama or the tip of South America. Learn how to find gold and the various methods used to extract hidden treasure from the region known as the Mother Lode. Explore a wide selection of towns that emerged along California's historic Highway 49 in the foothills of the Sierra Nevada during this unique period of America's past.
Write a review
Your Name:
Your Review:
Note: HTML is not translated!
Rating:
Bad
Good
Enter the code in the box below: