M. Bucket Sieve container 1 screen you pick the size 1 sieve guard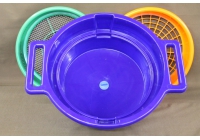 Brand:
Pioneer Mining
Product Code:
1 bucket sieve 1 protector 1 screen
Reward Points:
0
Availability:
In Stock
Price: $45.85

This is our newest product on the market. It allows you to drop different size sieve screens into it. The Bucket Sieve Container protects sieve screens from the wear and tear of every day use. It features a plug in the bottom that allows the material to drop straight down into the bucket. With the plug left in it can be used as a small bucket itself. Its designed to accept up to 3 different size screens in it and a sieve guard on top. Will fit most screens on the market today. It also features wear tabs that allow it to be rotated on the bucket without wearing out your sieve screens. Another great feature is the Paddle legs which allows it to sit flat on most surfaces. The easy grip handles make it easy to use. It also features our most popular designed sieved screens you pick the size made with mesh wire and high impact plastic and stainless steel meshing. It also comes with our solid plastic sieve guard screen.
Write a review
Your Name:
Your Review:
Note: HTML is not translated!
Rating:
Bad
Good
Enter the code in the box below: